English Language School in San Diego
Intensive English classes. Maximum 8 students per class.
Converse International School of Languages (CISL) has been a leading English school in San Diego since 1972. America's Finest City is known for its beautiful weather, expansive beaches, and laid back Southern California culture, but locals know that San Diego is so much more: the area's natural parks, museums, delicious restaurants, numerous sporting events, and year-round festivals make SD a cultural hub for those lucky enough to live or visit.
What makes San Diego so special? Each of San Diego's unique neighborhoods has something to offer. Fashion mavens flock to the malls in Mission Valley, beach-lovers choose between any of the city's gorgeous beaches, nature fanatics enjoy hiking along the sea and in the area's local parks, and urbanites take pleasure in areas like trendy East Village, exciting Downtown Gaslamp, and upscale Little Italy. Each of these areas is well connected with local transit, making it easy to explore them all!
Our English school is located on Broadway Street in Downtown San Diego, in the city's fashionable Gaslamp District. The school's modern facilities and bright classrooms provide students a welcoming environment; when class is not in session, students interact with friends in the expansive student lounge or take advantage of CISL's state-of-the-art computer lab.
CISL San Diego at a Glance
0
Max Students in Premier Class
0
Avg Students in Premier Class
Full range of levels
Student Lounge
Computer Lab
School Closure Dates: February 20, May 29, July 4, September 4, November 23 & 24, December 25
Minimum Course Length: 2 weeks
Lesson length: 50 minutes
20 lessons: 16.67 hours
21.8 lessons: 18.2 hour
28 lessons: 23.3 hour
Courses in San Diego
For more than 50 years, CISL San Diego has offered students the chance to improve their English skills through its Standard and Intensive Programs. Students attend classes in the mornings from Monday through Friday and master the skills necessary to communicate confidently in English. Should they choose, students can attend afternoon classes focused on speaking, Business English, or Academic English: classes are held Monday through Thursday.
Our English school is proud to have offered Cambridge Assessment English courses (Certificate of Advanced English and First Certificate) for over 25 years and is an official Cambridge Exam Centre. The school also offers intensive TOEFL, and IELTS preparation courses, which are led by qualified and dedicated instructors.
For the professional student, CISL offers Premier English courses Executive English, including private professional specialty courses such as Medical English, Aviation English and English for Engineers.
Academic students have the option of CISL's Pathway or Academic Year Abroad programs. With Pathway, CISL students transfer to an American university and receive their post-secondary degree (associates, bachelors, masters, or PhD). With the CISL Academic Year Abroad, students spend a gap year in the U.S., spending half of their time at CISL San Diego before transferring to a CISL partner college.
San Diego Accommodation
CISL San Diego students have several options for accommodation, including Homestay and residence halls in the upscale and hip neighborhoods of Downtown and Little Italy. Students can choose between private or shared rooms; additionally, students may select suite-style accommodations complete with kitchens and larger living spaces.
All CISL residences are within walking distance of CISL San Diego and are fully equipped for the international student. Homestays are within 30 to 40 minutes travel on public transportation. All CISL Host Families are carefully selected and are dedicated to providing students with a warm and welcoming home.
Activities in San Diego
CISL afterschool activities provide students the opportunity to see everything San Diego has to offer on water and land! Students take advantage of group discounts on tickets to Padres baseball games, surfing lessons, ferry rides to Coronado, trips to historic Old Town, or activities such as laser tag. The Activities Coordinator is ready to provide tips for students who are interested in making the most of their CISL San Diego experience. Students looking for an English school in San Diego with an exciting mix of activities will enjoy CISL!
San Diego Zoo
Balboa Park
Museums
San Diego Safari Park
San Diego Padres
Sailing in the San Diego Bay or Mission Bay
Surfing or Kite Surfing
Shopping at the Las Americas outlets or Fashion Valley
Whale watching
Hiking
Weekend excursions to Los Angeles or Las Vegas
Golf or tennis
Nationality Mix
CISL is dedicated to maintaining an impressive diversity in the classroom. CISL's Nationality Mix reflects this: no group of students is represented by more than 1/5 of the student population. The CISL classroom is a place to connect with people from around the world, which makes the CISL experience more than just an experience studying in the U.S.: it's a chance to connect globally!
Accreditation of the San Diego Language School
Converse International School of Languages (CISL) in San Diego is accredited by the Commission on English Language Program Accreditation for the period December, 2014 through December, 2024 and agrees to uphold the CEA Standards for English Language Programs and Institutions. CEA is recognized by the U.S. Secretary of Education as a national accrediting agency for English language programs and institutions in the U.S. For further information about this accreditation, please contact CEA, 1001 North Fairfax Street, Suite 630, Alexandria, VA 22314, 703 665-3400, [email protected] , www.cea-accredit.org
Meet the CISL San Diego Team
CISL's well qualified and dedicated staff members understand the specific needs international students have. The CISL staff members are ready to assist in any way possible!
Latest Blog Posts for Living & Traveling in San Diego
June 12, 2019October 1, 2021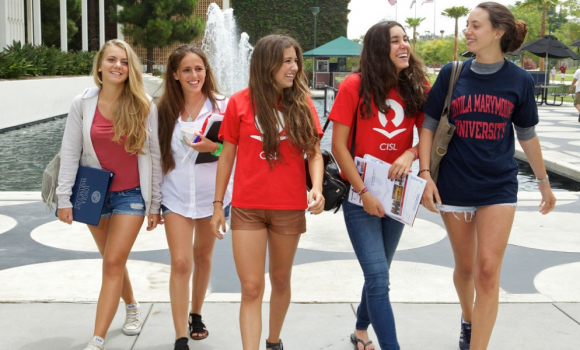 Do you want to study English? Have you always dreamed of visiting the United States? If so, keep reading. According...