California sunsets are one of the best things about living in this beautiful state. When you're studying English in San Francisco, be sure to enjoy the sunset each evening! These locations offer the 5 best sunset views in SF.
How amazing are the sunsets in California? Take a look on Instagram and you'll see! Each of these photos were posted within the last day, which shows how amazing the California sunsets are.
The 5 Best Sunset Views in SF
Twin Peaks

Wear comfortable shoes and grab a jacket: the wind at Twin Peaks can be strong, and the hike up is a bit of work! Once you're at the top, you have stunning views of San Francisco. Stay after sunset and watch the lights of the city come on: this view is beautiful any time of the day.
Twin Peaks: 501 Twin Peaks Blvd, San Francisco, CA 94114, USA
Lands End

Lands End is a park in San Francisco that has many hiking trails, including the famous oceanside California Coastal Trail. San Franciscans use this trail to run and hike, but they also take a moment to stop and enjoy the sunset from the beautiful view of the Golden Gate Bridge from Mile Rock Point and Mile Rock Beach.
Lands End: 680 Point Lobos Ave, San Francisco, CA 94121, USA
Bernal Heights Park (and Summit)

Bernal Heights Park is built on a hillside, and its park and trails provide stunning 360 degree views of San Francisco. Enjoy the trails and the view past San Francisco: on a clear day, you can see surrounding cities in the Bay Area such as Daly City.
Bernal Heights Park: 3400-3416 Folsom St, San Francisco, CA 94110, USA
Corona Heights Park

Corona Heights Park is next to the Castro and Corona Heights neighborhoods in SF. The views, which are unobstructed, allow visitors to see Twin Peaks, Downtown San Francisco, and beyond. Be careful: the steps leading up to the top do not have handrails, so it can be a little scary!
Corona Heights Park: Roosevelt Way & Museum Way, San Francisco, CA 94114, USA
Alamo Square

This park has views of the most famous houses in San Francisco: the Painted Lady Victorian houses! Alamo Square Park was just renovated and re-opened in May, 2017. In addition to enjoying the architecture of the mansions surrounding the park, visitors can see San Francisco City Hall, Golden Gate Bridge, the Bay Bridge . . . and beautiful California sunsets! 
Alamo Square: surrounded by Webster Street (east), Golden Gate Avenue (north), Divisadero Street (west), and Fell Street (south)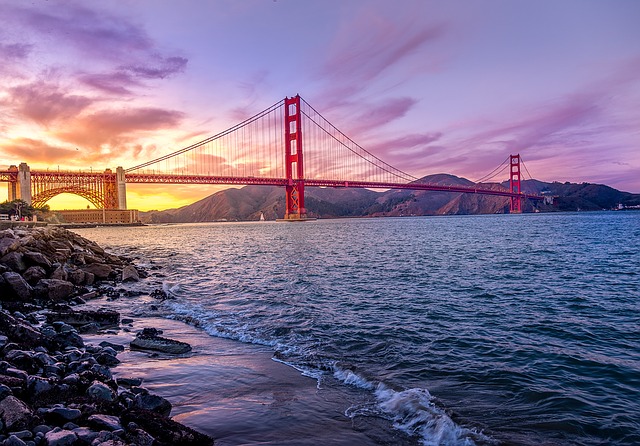 Sunset Color Vocab
How do you describe the beautiful clouds, the amazing colors, and the effects of the ever-changing sunset over the Pacific Ocean waters? These colors will help you
Shade:
Definition: the intensity of a color (whether it has more light or dark to it).
Example: Look at the many shades of pink in tonight's sunset!
Hue
Definition: a color or shade (similar to the word "shade" . . . although an artist could explain that they are different! For learning English, think of "hue" as a synonym for "shade" or "color").
Example: Last night's sunset had so many beautiful hues.
Color + ish (blueish, pinkish, etc.)
Definition: a color similar to the one used in the word, but not exactly the color. (Use this word when you don't know the exact color you're describing.)
Example: The sky was a blueish, purplish color: it was so lovely.
Stunning
Definition: very beautiful.
Example: What a stunning view . . . and sunset.
Ablaze
Definition: on fire.
Example: The sky was ablaze during the red and orange sunset.
Cast (verb)
Definition: to cause light or shadow to appear on a surface.
Example: The sun cast its light on the clouds and created a stunning sunset.
Ray
Definition: the streaks/lines of light (from the sun).
Example: The sun's rays were shining through the clouds as it set.

Radiant
Definition: bright.
Example: The radiant sunset was impossible to capture in a photo. You had to be there to really see  it.
Crimson
Definition: a shade of red (often used to describe the sky).
Example: The crimson sky turned into a deep blue.
Glow
Definition: to shine brightly.
Example: It looked like the sky was glowing.
Trace
Definition: a hint of something; a touch of something.
Example: I could still see traces of orange in the sky an hour after the sun set.
Share your California sunset photos to Facebook and be sure to tag CISL and add #CISL to your photos!
Photos from Pixabay.