Are you taking the CAE or FCE Exam soon? Many students feel like they can prepare for some parts of the exam, like the writing module, but few feel that there is a way to practice for the speaking module. However, there are some very simple ways you can study for the CAE and FCE speaking module: each section has a clear purpose, so you only need to learn some language that will help you with this section. Do you know the vocabulary that you need for Part 3 of the CAE or FCE speaking module?
Overview of CAE and FCE Speaking Part 3
You and a partner will be given a piece of paper and a task, such as deciding which item is most important on a list of items. You will speak for 3 minutes in the CAE Exam and 2 minutes in the FCE Exam. (This is followed by 1 minute of speaking to reach a decision.)
Several language skills are being tested here:
Your ability to have a conversation

Your ability to ask questions

Your ability to state your opinion
The best way to improve your score in this section is to use a variety of sentence structures. Below are some of the many sentences that you can use to ask questions, state your opinions, and continue a conversation.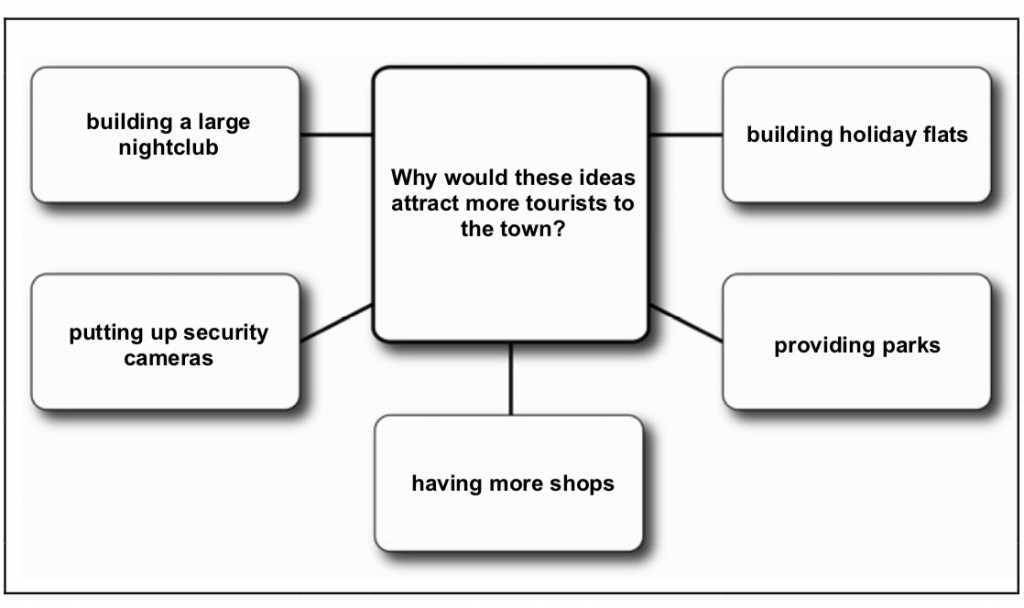 Vocabulary and Tips for CAE and FCE Speaking Part 3
Vocabulary for asking questions
What's your take on . . . ?
How about . . . ?
This seems/looks/appears ______. What do you think?
Do you think that _________?
What's your opinion about . . . ?
Vocabulary for stating your opinions
I'd assume that ________.
I'd choose/rank/select _______ over ________ because . . .
Based solely on my own opinion, I'd say . . .
I'm still unsure about what to do with _______.
I'm having some difficulty + ing/with . . .
Vocabulary for moving on/keeping a conversation going
OK, so we've established that ______. What about . . .?
Alright, now that we have decided on _______, should we take a look at . . . .?
Should we move on and focus on _______?
Moving on to _______, I think . . .
Vocabulary for reaching a conclusion
So we've come to the conclusion that . . . .
I think we have reached a decision. We've decided that. . .
OK, we've agreed upon . . . .
Some more tips:
If your speaking partner is really shy, do not be afraid to speak more. Read our article What Do I Do When My Speaking Partner is Shy? for some more tips for how to act in this situation.

It's OK to make jokes. It lightens the mood a little.

Remember that the interlocutor will listen to partners discuss these photos all day. Imagine how boring this is! For that reason, try to be original in your thoughts and what you share with your partner. Make your commentary interesting (and grammatically correct)!
Converse International School of Languages is a fully accredited English language school in San Diego and San Francisco. CISL has been providing quality English instruction since 1972 and is an official Cambridge Testing Centre. CISL's Cambridge CAE and FCE classes prepare students for the Speaking Module through mock speaking exams and detailed feedback. Our students are well prepared for their exam. Contact CISL to learn more about our programs and proficiency test preparation courses.