January is coming to an end, but we are still thinking about beginnings: specifically, the beginnings of words, and how we begin our days while living and studying English in beautiful San Diego. Learn all about prefixes, and enjoy our suggestions for ways to begin your day while studying at CISL!
What is a prefix, and why do you need to know them?
Prefixes are letters that we add to the beginning of a word. This changes the meaning of the word (and allows you to build words from ones you already know).
Prefixes can:
make a word negative
express relations of time
express a place
express a manner
Here are some examples of words with and without prefixes.
appear/disappear
view/review
wind/unwind
Do you notice how the word changes its meaning when we add a prefix?
Prefixes are important for vocabulary building, and knowing them is also important for tests like TOEFL, IELTS, and Cambridge ESOL exams like CAE and FCE.
Let's take a look at different types of prefixes and see some examples.

Types of Prefixes
As mentioned above, the most common prefixes make a word negative, express relations of time, express a place or placement, or express a manner of doing something.
Note: some of these following words are hyphenated; others are not. Why is this? Unfortunately, in English there really is not a "rule" for when you use a hyphen with prefixes and when you do not. If confused, consult your dictionary or spellcheck.
Use 1: Making a word negative
Common prefixes used to make a word negative include:
anti- (against, opposed to)

antiwar, anti-guns, anti-racist

de- (reverse or change)

devalue, declassify, defrost

dis- (reverse or change)

disagree, disarm, disqualify

il-/im-/in-/ir- (not)

illegal, impossible, inappropriate, irregular

mis- (incorrectly, badly)

misinform, misinformation, misspell

un- (reverse, not)
Use 2: Expressing relations of time
Common prefixes to express relations of time include:
re- (again)
post- (before)

postwar, post-baby, post-college

pre- (after)

prewar, preview, preschool
Use 3: Express a place/placement
Common prefixes to express place and placement include:
extra- (more, beyond)

extracurricular, extraordinary, extraneous

down- (reverse, lower)

downplay, downsize, downgrade

inter- (between)

internet, international, interactive

mid- (middle)
trans- (across)

transatlantic, transnational, transition

sub- (under, below)

subway, submarine, substitute

up- (move, make higher)
Use 4: Express a manner
Common prefixes to express a manner include:
auto- (self)

autodidact, automatic, automobile

hyper- (extreme)

hyperactive, hyper-speed, hyperspace

mega- (large, important)

megaphone, megabyte, mega-sale

out- (go beyond)
over- (too much)

overpaid, overqualified, overdrawn

pro- (in favor of)

pro-government, proactive, proposition

ultra- (extremely)

ultra-sensitive, ultraconservative, ultrasound

The Best Places to Start Your Day in SD
After all this talk about beginnings, let's take a look at another beginning: how to start your day when you are a student at CISL San Diego. When preparing for a full day of English lessons and after school activities, it's important to begin your day on the right foot by taking some time to enjoy your beautiful surroundings. 
The San Diego Bay
One of the most serene parts of Downtown San Diego is the Bay. Watch the planes take off and land and the ships come in and out of the port before heading to class: the calm waters, swaying sailboats, and the birds flying overhead create a peaceful scene that will start your day off well.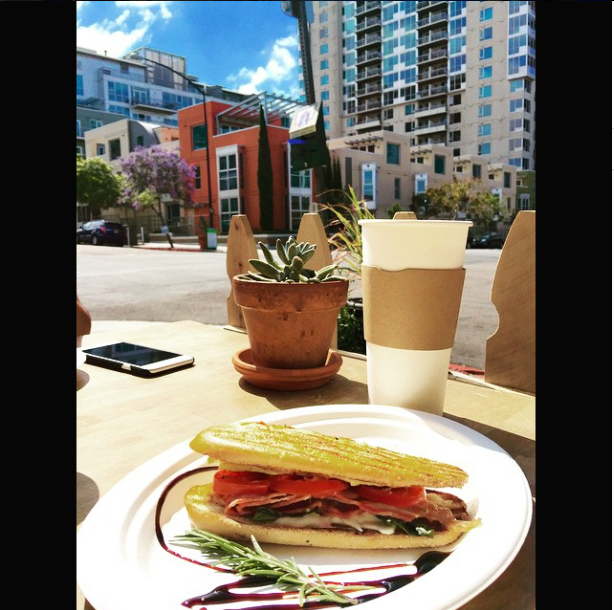 Your favorite coffee shop
Coffee culture is important to Americans, but don't think it's all about Starbucks! In San Diego's Little Italy, Italians at cafes like Pappalecco serve up (among other many things) delicious coffees, teas, pastries, and sandwiches. It's a little too early in the day to enjoy their incredible gelato: save that for your trip home from class.
The gym/An exercise class
Gyms like 24 Hour Fitness are (as the name says) open 24 hours, but they aren't the only places to start your day with a little exercise. Yoga studios, pilates studios, and private "boot camp" groups often meet before work and school so that you can work out before starting your day.
The beach
What better way to start your day than with a sunrise on the beach? Joggers, dog walkers, and roller bladers all meet on the beach boardwalks: join in with the exercise, or just people watch and enjoy the sound of the waves and the peace and quiet before your day begins.
Balboa Park
Escape into nature before attending class by strolling through Balboa Park, one of the largest parks in the U.S. (and the largest in California). Enjoy the trails, the manicured grounds, and the beautiful views of Downtown SD, then head down 6th street and arrive at CISL's Downtown San Diego location just in time to begin a day of productive language learning.
How do you start your day when living in SD?
Unless specified, all photos are from Shutterstock.