Today the CISL Blog continues its series on the neighborhoods of San Diego and San Francisco with an overview of one of the more vibrant areas of San Francisco: Chinatown. This colorful, flavorful, and exotic neighborhood is the largest Chinatown outside of Asia and an exciting cultural and culinary experience for visitors!
Location
Surrounded by North Beach, Nob Hill, and the Financial District, Chinatown is an accessible part of San Francisco and one of the city's most treasured neighborhoods.
History
Much of California's history is centered on an event that changed the area forever: the Gold Rush of 1849. During the Gold Rush, gold was found in Northern California and people from all over the world journeyed to the area in hopes of getting rich quickly. (Fun fact: this is where the city's football team, the "Forty-Niners", got its name!) Historians believe that during the Gold Rush, over 123,000 brave people from southern China traveled to San Francisco. While many of the immigrants opened businesses, most worked as railroad laborers. Unfortunately, unemployment rates were high at this time, and the area experienced dangerous levels of crime and became a place for gambling, prostitution, and opium use. The neighborhood experienced a "makeover" in the early 1900s, resulting in today's Chinatown: a center for culture, tradition, history . . . and, of course, food!
See/Do
As with most of San Francisco, to truly soak in the vibe of a part of the city, be prepared to hits the streets and people watch. Enter the area through the dragon: the famous gate on Grant & Bush Street. The plaque above the gateway displays four Chinese characters that mean "All that is under heaven belongs to the people." The plaque is a reference to the words of Dr. Sun Yet Sen who overthrew the corrupt monarchy and started a democratic republic in China. The four characters displayed on the gateway sides represent loyalty, compassion, integrity, and peace: the values of famed Chinese philosopher, Confucius.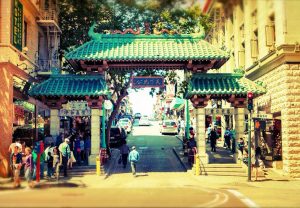 After entering through the famous gateway, walk through the area's shops selling fun souvenirs like bamboo hats and peruse the tea houses and herbal shops. Once you have worked up an appetite, enjoy some traditional Chinese Dim Sum or noodles at one of the area's delicious restaurants.
Eating delicious Chinese foods is at the top of most visitor's lists.
Additional Info
For more information about San Francisco's Chinatown and its restaurants and events, visit the San Francisco Merchants of Chinatown website and Facebook page.
All photos are courtesy of the San Francisco Merchants of Chinatown.